Hanoi, 26 November 2019 – AES Mong Duong Power Company Ltd., in cooperation with the Center for Education Development (CED), presented AES Future Energy Scholarship to outstanding students from Quang Ninh and northern provinces majoring in electricity at Hanoi University of Science and Technology (HUST) and Electric Power University (EPU).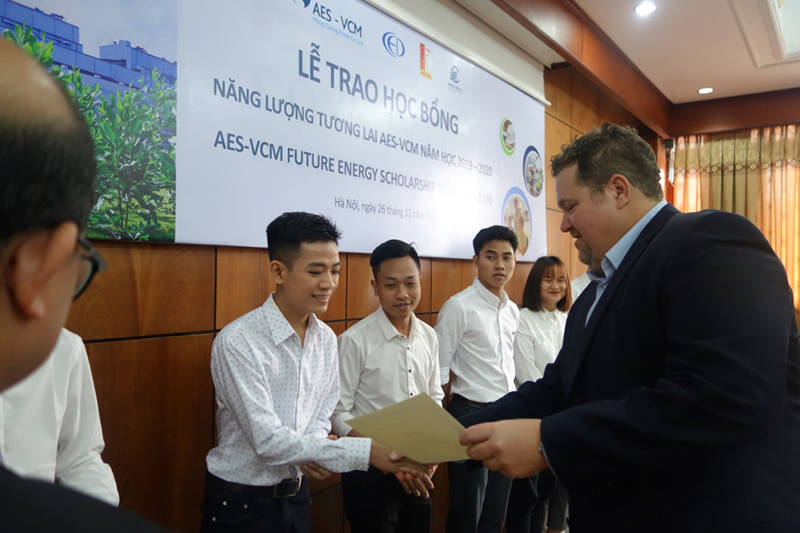 This scholarship program has been implemented three years ago (in 2017) by AES. Its main focus are investments in education, training and preparing a high-tech future workforce for Vietnam energy sector facing increasing electricity demand in the country. The selected students will not only receive US$ 600 financial support for each but will also benefit from participating in soft skills and English trainings, volunteer activities, community supports and site visits to Mong Duong 2 BOT Thermal Power Plant invested and operated by AES Mong Duong Power Co., Ltd in Quang Ninh province.
This tailor-made scholarship program is aimed at reducing burden of tuition fee and other expenses for the students and providing them key career and skills-building activities throughout the year. Specialized training courses organized by CED will provide practical information, strengthen students' potential and knowledge about the power industry and will help them to define their future career opportunities.
Speaking at the Ceremony, Mr. David Stone, President of AES Vietnam said "At AES, people are the most valuable asset. Our success is based on the talent of AES people who are passionate about their work and consistently strive for excellence. Investment in people and education is a top priority in our corporate social responsibility policy. I am happy to see scholarship program implemented for the third year with many outstanding students benefiting from it. I hope it will energize them further to learn even harder and will improve their personal development path, giving them the chance to fit in well with the country energy future."
The scholarship program is strongly supported by the universities' administrations and attracts an increasing number of applicants. This year, 20 scholarships were granted with total value of the program of VND500 million.
"For my family and me, receiving the scholarship was a huge honor. The financial support helped me in my study, taking out the need to work many hours at a part-time job, hence giving me more time to concentrate on my educational projects. I had more time to improve my English and to dedicate myself to research in the laboratory. In addition, the scholarship program also provided trainings and voluntary activities through which I gained experiences while meeting with new people from other parts of the country. Now I've become more confident. Especially, a site visit to the Mong Duong 2 Power Plant strongly motivated my study and research. I am very grateful to the Company and the scholarship program officers for their support", shared Le Thanh Tung, student at Electrical and Engineering Institute, HUST on the experience with the scholarship program he had.
Besides education, the AES Company also implemented other CSR Programs focusing in healthcare, environment protection and livelihood improvement in Quang Ninh province with accumulated value of nearly VND 10 billion.